SMART Board 6065 (SPNL-6065) specifications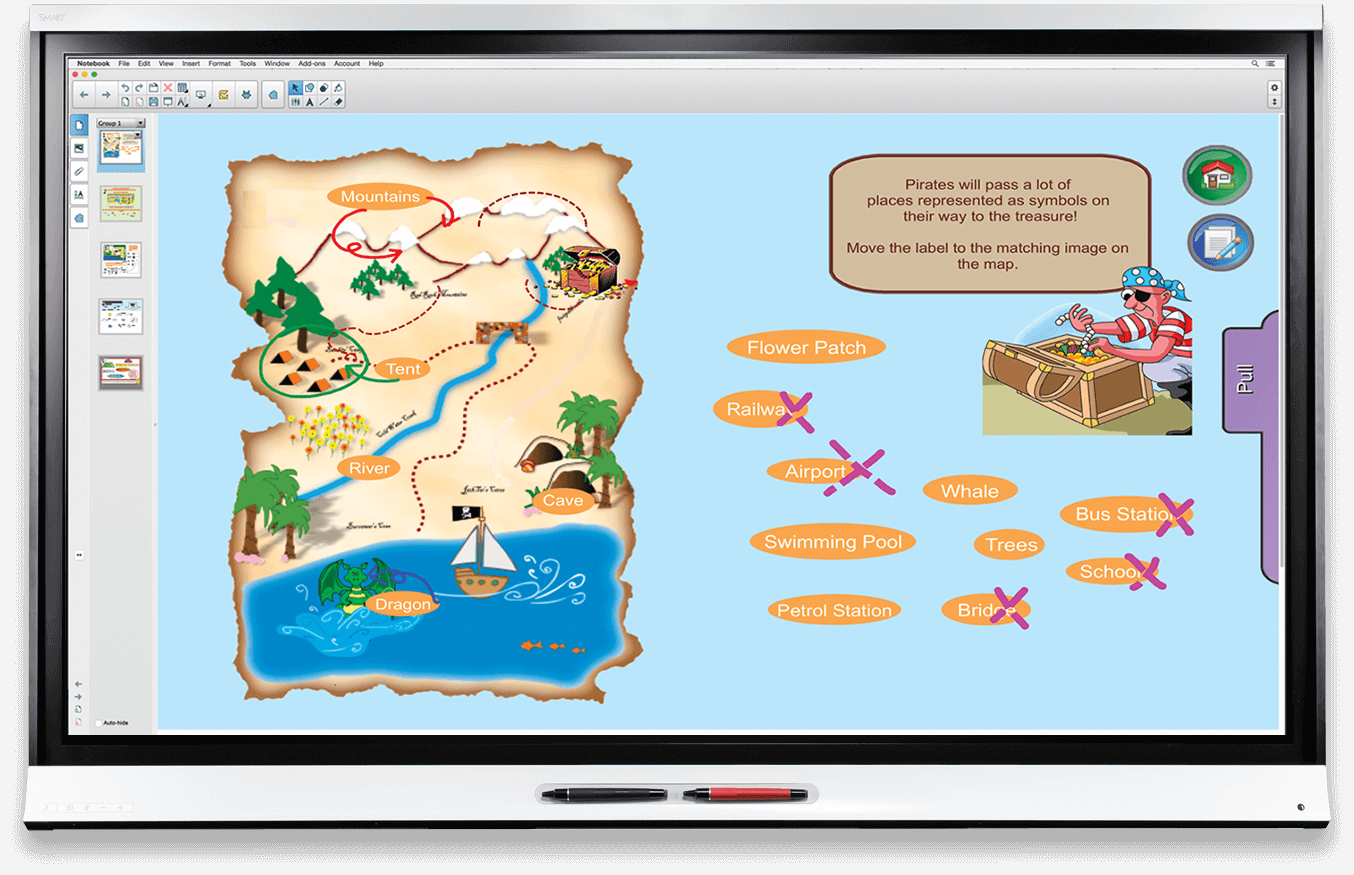 The SMART Board 6065 interactive flat panel combines SMART's proprietary DViT (Digital Vision Touch) technology with the premium touch experience of SMART Learning Suite, including SMART Notebook software.
The 65" 4K ultra-high-definition LED display provides optimal image clarity and wide viewing angles. With the Pen ID feature, you can assign different appearances to the two pens and write or draw over any application in digital ink.
Object awareness allows you to perform mouse functions with your finger, write in digital ink with the pen, and erase with your palm or eraser—all without switching tools or modes. You can use a variety of gestures in applications, and two users can write or draw at the same time.
Dimensions and weights
Dimensions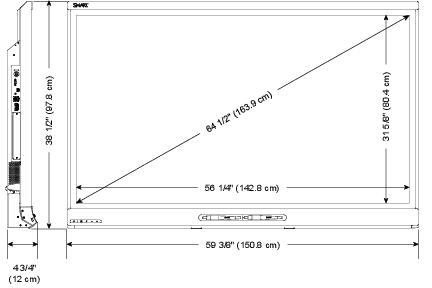 Weight
135 lb. 6 oz. (61.4 kg)
Shipping dimensions (including pallet)
69 1/4" × 49 5/8" × 11 7/8" (175.8 cm × 126.1 cm × 30.3 cm)
Shipping weight
178 lb. 13 oz. (81.1 kg)
Note 
All dimensions ± 1/8" (0.3 cm). All weights ± 2 lb. (0.9 kg).
Hardware
Interaction

Touch technology

DViT technology

Multitouch capabilities

8 touches1 Requires SMART Product Drivers to be installed. Some applications might not support 8 touches. Only up to 4 touch points and no pen support on Chrome OS operating system.

Object awareness

Behavior adjusts automatically to the tool or object you're using, whether it's a pen, finger, eraser or palm.

Pen ID

Two people can write independently and simultaneously, using different colored ink.

Display

Type

LED

Aspect ratio

16:9

Optimal resolution

3840 × 2160 at 30 Hz (HDMI input only)

Horizontal frequency

244–280 kHz (analog and digital)

Vertical frequency

24–120 Hz

Contrast ratio (typical)

1400:1

Brightness (maximum)

360 cd/m²

Pixel dimensions

0.372 mm

Gamut

72% of NTSC

Viewing angle

178°

Response time (typical)

8 ms

Presence detection

Presence detection sensor on the bottom frame

Audio

10 W rear-facing integrated speakers (×2)

Noise level

35 dBA

<35 dBA

Included cables and accessories

8' (2.4 m) country-specific power cable

16' 5" (5 m) USB cable

Pen (×2)

Mounting holes

For a standard VESA 400 mm × 400 mm mounting plate

Lower mounting holes 13 3/4" (35 cm) from the bottom of the display

Mounting bracket depth

Minimum depth of 1 5/8" (4.2 cm) for all components on the back of the display to clear the wall
Connectors
Installation requirements
Cable requirements
HDMI

Maximum length: 23' (7 m)

Notes 

Use only certified HDMI cables that have been tested to support the performance standard you require.

The performance of cables longer than 23' (7 m) is highly dependent on the cable's quality.

USB

Maximum length: 16' (5 m)

Important

Using cables that exceed these maximum lengths can produce unexpected results, such as degraded picture quality or USB connectivity. Refer to SMART installation standards (smarttech.com/kb/171035) for comprehensive information about cables and extensions for SMART hardware products.
Storage and operating requirements
Power requirements

100V to 240V AC, 50 Hz to 60 Hz

Power consumption at 77°F (25°C)

Standby mode

22 W

Normal operating (out‑of‑box)

187 W

Maximum operating

200 W

Operating temperature

41–95°F (5–35°C)

Storage temperature

-4–140°F (-20–60°C)

Humidity

5–80% relative humidity, non-condensing
Certification and compliance
Regulatory certification

UL (U.S./Canada), FCC, IC, CE Mark, RCM Mark, CCC, EAC, BIS, VCCI, SPRING, KC Mark

Environmental compliance

European Union

REACH, RoHS, WEEE and Packaging

U.S.

Packaging and Conflict Minerals
Purchasing information
Order number

SPNL-6065

SMART Board 6065 interactive flat panel with SMART Learning Suite

Optional accessories

UGK-KAPPIQ-AM30-EDU

iQ appliance for SMART Board 6000 and 7000 series interactive displays

WM-SBID-501

Fixed wall mount for SMART Board interactive displays

Other

Warranty

Two-year limited equipment warranty

Extended warranty

EWY1-SPNL-6065

One-year warranty extension

EWY3-SPNL6065

Three-year warranty extension
Models

Keywords

dimensions
weights
hardware features
connectors
installation requirements
cable requirements
storage and operating requirements
power
certification and compliance
purchasing information
warranty

Related documents